Many amateur radio societies have organized within 2015 special award comptetitions for the 150th anniversary of ITU. The competitions come in the form of one or more special event stations with interesting prefixes. QSOs with them lead to some type of award.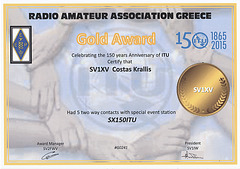 The first award I managed to complete was the SX150ITU award from RAAG in Greece.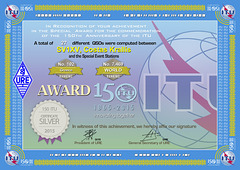 Then the URE award from Spain, silver class.
Finally today the MRASZ award from Hungary, bronze class.
I also qualify for the polish award, but I have not managed to apply using their web page.
There are more news, next Monday, the 2nd of November, the World Radiocommunication Conference 2015 (WRC-15), opens in Geneva, Switzerland, and shall last to 27 November 2015. Let's see what interesting prefixes are on the air for this event.