Yesterday DJ90IARU uploaded logs to the Logbook of The World (LoTW). For me these included a 6 m QSO with locator JO42 in June 2015. With this QSL I reached 125 confirmed locators on 50 MHz so I applied for the VUCC endoresement.
ARRL accepted my application within a few hours, so now I wait for the sticker

in the mail.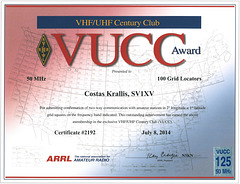 Update 2016-01-22: Today I received the 125 locators endorsement sticker. Thanks ARRL!
Update 2016-02-04: Read about the related experience of Bob K0NR: "50 MHz VUCC Via Logbook of the World" (2013-01-11).